It's been a long, long time since I've really been engrossed in new music, whether it simple disillusionment towards disappointing releases or merely indifference. But the fall's releases have given me some semblance of hope that maybe that inner 11 year-old who once fell in love with Illadelph Halflife still exists.

Momentary musings: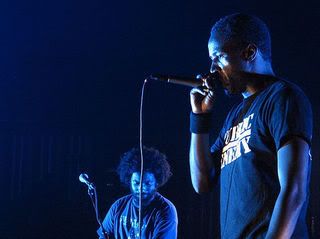 I used to be a slam poet. Seriously. Spent Monday nights at louderArts Bar 13, Wednesday nights at the Bowery Poetry Club, and ofcourse Friday nights at the New York mecca of "slam" poetry, the Nuyorican Poets Cafe. Hell, I even spent my senior year of high school being allowed to cut class to teach the correlation between jazz/soul history to modern-day hip-hop/slam.

So yeah, I know my shit, and no self respecting slam geek could go through life without giving props to our most visible figure, the illustrious Saul Williams.
I liked "Amethyst Rockstar," loved his self-titled Fader release, and with his thank-thee-for-free "the Inevitable Rise and Liberation of Niggy Tardust!" I can't help root for the guy. He's pushing boundaries, inciting thought, and just straight doing it fresh.

I'm still letting "Niggy Tardust" simmer internally for a bit, but here's a flashback to early Saul in "Slam."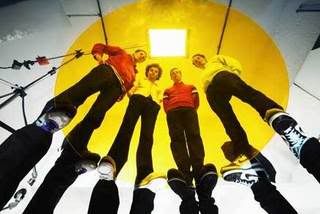 A few years ago I went on a "date" of sorts with an amorous young lady...and it was pretty, uh, yeah...fucking bad. Except for Battles, they were pretty fucking sweet. (She thought they were "cool, just kinda, too loud for me, you know?" Once again another reason for our empty evening)

Either way, their album "Mirrored has finally dropped, and I'm not one for outrageous hyperbole, but...this album is fucking beautiful...Powerful, engaging, funny, just everything I've been wanting out of an album in a long time. (Okay minus lyrics, but maybe the lack of words made it that much better)

Anyway here's what I believe to be their first single, " Atlas" (note the sweet Wizard of Oz sample):



I have yet to hear all of the Most Serene Republic's new album Population but I'm liking what I've heard so far, and their video for "The Men Who Live Upstairs" :