It's been a while since I've done one of these, and seeing as how relatively few will be taking this long weekend off to think, reflect, and pray for soldiers past and present (not like people are doing that everyday or anything) here's a rundown of things to occupy one's time other, than...well, you know, offing yourself. Cause killing yourself in honor of people who were supposedly killed in the name of protecting your right to bear arms and stuff kinda defeats the purpose, no?

Spend that Mutha*Ucking Stimulus Check



There are hundreds of smart, long term minded, financially beneficial manners in which to spend the check to jump start our stagnant economy. But this is Memorial Day, and what true, blue American would stand idly by awaiting growth potential and interest rates on a stimulus investment when you can simply blow that bad boy now? Fuck the future, the world's going to shit, people are horrible and we're all going to burn up and die cause of Al Gore.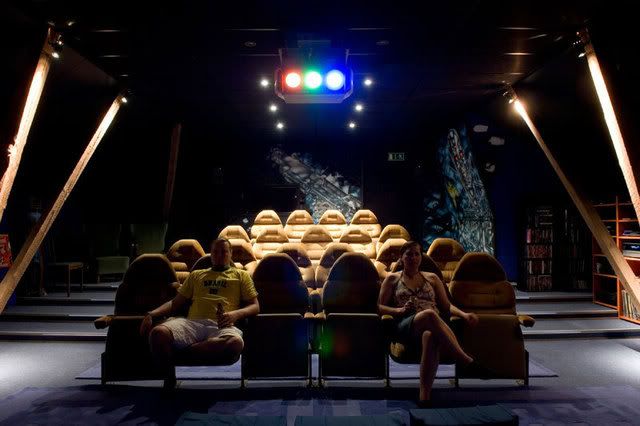 Peliculas:

While everyone's out getting their "Crystal Skull" on (as will I, though I abhor Shia LaBeouf, abhor!) here's some films to catch at your local pretentious art house theatre, or awful shameful films to add to your NetFlix queue:



"Reprise"

A Norwegian film that's been floating around for the better part of two years finally gets it's stateside release, and thank fucking God. Perfectly encapsulating the maddening uncertainty of the constant fluctuating nature of twentysomething-hood in manner that doesn't sink to idiotic teenage melodramatic idealism is a difficult chore for many, yet first time director Joachim Trier tackles the subject with a deft touch. Wonderfully acted and directed with beautifully rich, emotional touch, "Reprise" finds the right balance of darkness and humor without overwhelming the senses, while still maintaining a tension that leaves one entranced by the specter of simplicity.

Oscar Wilde's once noted, "Friendship is more tragic than love; It lasts longer," and "Reprise" conveys that sentiment-in a deeply affecting exploration of friendship, competition, love, and psychosis.





"Iron Man"

Now obviously, everyone who was going to see this movie has already seen it, and those that haven't just won't, but I just want an excuse to give props to my beloved RDJ and besides, maybe we should all consider seeing it again, if not for Gwyneth Paltrow's most bearable work since, uh, never, but for director Jon Favreau, who hopefully parlays this massive wad of dinero coming his way into a new season of "Dinner for Five," cause who misses seeing Favreau wax poetic with the likes of Rod Steiger comparing "On the Waterfront" with the emotional complexity of "Made" ? I know I do.





"Hors de Prix (Priceless)"

Seeking a rom-com reprieve from the insultingly inept "Made of Honor" and the disappointingly predictable "Baby Mama," here's the simple and delightful "Hors de Prix (Priceless)," a light French take on the old "Breakfast at Tiffany's" standard that does a commendable job layering the saccharine sweets. Audrey Tautou makes a surprisingly effective femme fatale and Moroccan comic Gad Elmaleh more than holds his own as the love struck john. All in all, "Priceless" is a nice cherry on top you don't mind saving the stem for tongue twisting later.





Go Go Gadget Godard

While I've always been in the minority in considering "Breathless" to be slightly overrated, I can't hide my glee in the amount of joy I derive from Godard's dalliances with experimental colors, sounds, conventional narrative structure, dialogue, and of course, beautiful women in beautiful places. A retrospective of Godard's 60's period is currently at the Film Forum: for cinephiles, it's a chance to rediscover an intriguing artist having some genuine fun with form, and for the uninitiated, it's adulterated fun immersing yourself in the foreign sexy nostalgia of Godard's 60s.

Definitely try catching:



"Une Femme est une femme (A Woman is a Woman)" -Anna Karina is magic.

"Le Mépris (Contempt)"- Bardot is Bardot, and Jack Palance is hilarious.

"Week End" -Discombobulated, dark, and delightfully dystopian.

"Bande à part (Band of Outsiders)" - Fun with Anna Karina, nuff said.

"Masculin, féminin" - I like Chantal Goya, and you should too.



Laugh it up.

Louis C.K. plays the Comedy Cellar this weekend. Pound for pound best stand up around. And it doesn't cost $100s+ (like some people) to see him live.

Tearing the Veil of Maya- Sunday Stand up show in Park Slope, BK hosted by Eugene Mirman and Michael Showalter. Act like you don't wanna go. UPDATE: Apparently they're on summer vaca, but Mike Birbiglia's on this week, and he's a fine, funny, friendly fellow.

Gravid Water- Definitely one of the best improv shows around, taking Broadway actors with memorized scripts and dumping improvisers into scenes from different plays with no prior knowledge of the scene, whether it be dramatic or musical. Always a fun adventure through scene work.


Via

This isn't an event this weekend but taken from an indie rock trivia comedy extravaganza this past week hosted by the illustrious Zach Galifianakis. Here's "so indie he's indie, indie rocker" Michael Showalter, conspicuously wearing the exact outfit I saw him rocking in class this past week. And yes, he is indeed awesome.



Actually 'Buying' Music

I may be one of the few dinosaurs who enjoy record shopping, but for my fellow anti-social brethren, one can only download so much without missing the smell of disgruntled record shop pretension.



Alex Cuba

Seeing this shy Cuban by way of Canada guy onstage at a Cody ChesnuTT show in BK several years ago, Alex Cuba has carved out a nice niche for himself with mellow, innocuous rhythms. His new album, "Agua Del Pozo" may lack some of the pop sensibility that his previous "Humo de Tabaco" carried, but it still goes well with a mojito on a warm, sunny Sunday afternoon just the same.





She & Him

I don't want to like her. I didn't want to like her. But sadly I do. And in light of the flat floppery of the supposedly raspy voiced one, maybe we needed Zooey to balance out the oftentimes misguided world of celebrity musicianship. Either way, "Volume One" is a nice, sweet pop album with a more than adequate female voice. Oh yeah, and she's cute or something. I don't know; I don't see superficial beauty. (Yes I do.)





The Black Keys

The Black Keys are one of those bands that you rarely name check as a favorite, then see live and remember, "oh yes, they are that good." Their new "Attack and Release" carries with it all the hype a Danger Mouse production customarily creates, and following the somewhat complacent "Magic Potion" is a welcome return to free form funkafied goodness.





Scarface

Definitely one of the most slept on albums of the past few months, Houston based Scarface's "MADE" is beautifully taut, powerful hip hop of the highest order. While lacking the bravado of Hova's "American Gangster" or the pomp and circumstance of the hype event that is "Tha Carter III", Scarface follows the pinpoint perfect production of "The Fix" with a low key, somber "MADE" that easily equals its predecessor in depth and replayablity. Touted as his last album, may we continue to celebrate classics such as this:





GO. OUT. SIDE. Seriously.

The weather's projected to be in the nice 70s, relatively warm, sunny; perfect weather for a run through the park, a pickup basketball game, drunken emasculating softball, or a stroke inducing pickup soccer game with the Sunday Latin/Italian soccer league.

An afternoon of embarrassing flop sweating
+ binge drinking with friends at the corner pub
= fun had by all.

Now go forth and BBQ, booze, ball it up and celebrate the summer coming upon us. Fire those aerosols into the sky. Global warming, Schmobal warming.



And enjoy.