(Via NSFW)


Comedians Wyatt Cenac and Joe Mande talked about
Not the Cosby Show XXX
at last Wednesday night's "
Totally J/K
at the UCB Theatre, and while television porn parodies have all but been an amusing sub-genre to point and laugh at (and pretend you're not curious in perusing), there's no way it seemed it could be as ridiculous as they described it.
But it is. Holy shit, it fucking is:
(TRFW: Too Ridiculous For Work- Via)
Wow. No seriously. Wow.
While
the Office
porn parody seemed funny and harmless enough, this Cosby porn parody is silly...with an undeniable aura of creepiness. Yes, Mr. Ward's Cosby impression is amazingly spot on, but then panning over to the children, to Rudy, it's just...um...no...ugh...and I'm done. My inner seven year-old's soul just committed suicide in shame.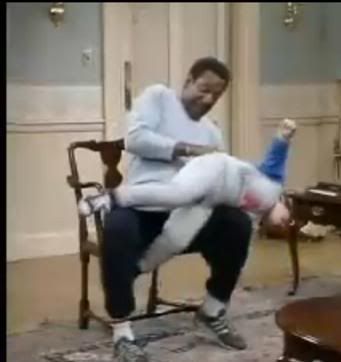 That being said, I'm all for an
A Different World
porn parody. Dwyane Wayne, Denise, Sinbad...anything to clean my mind of...(haunting shivers).